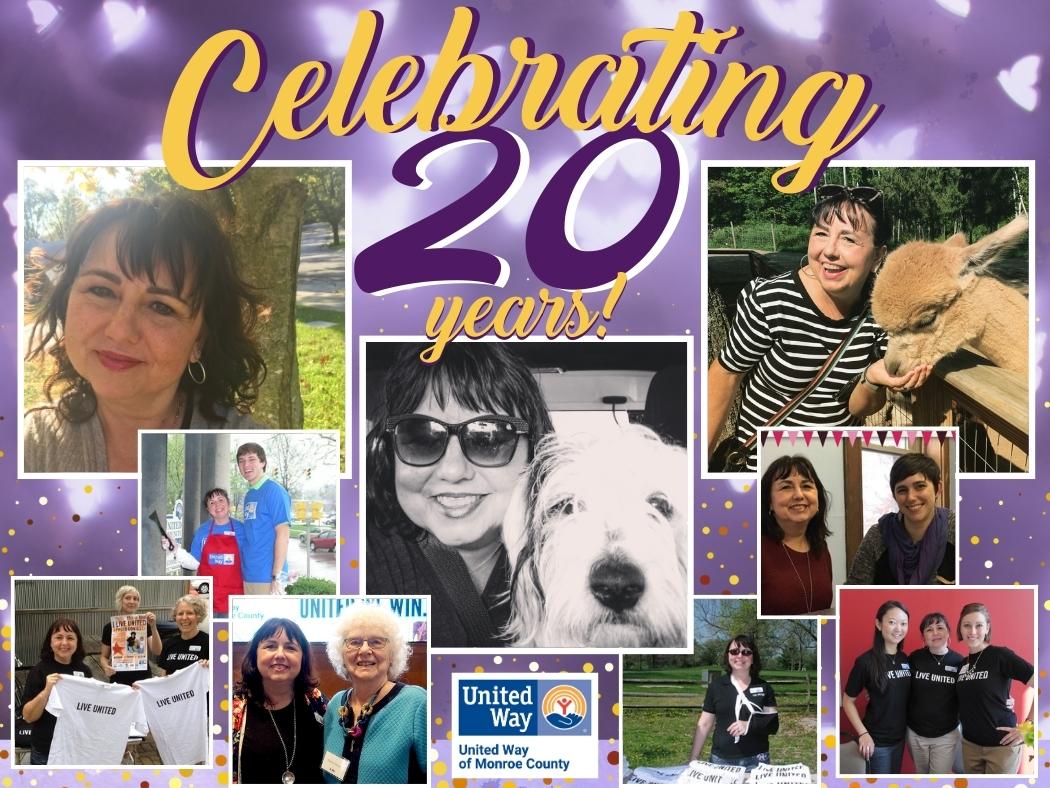 "A small group of people who want to help can be so powerful – they can make a big difference."

 

April 26, 2023 -- As Chris Hazel celebrates her 20-year anniversary with United Way of Monroe County, she has seen the community come together time and time again to help each other.

In her role as Finance Director, she accounts for every dollar received and granted out, keeps meticulous records, produces financial reports, and helps set up accounting structures for new funds. "Be it for annual support, a disaster, or COVID-19, we are ready to raise the money needed for our community."

"The work is challenging. But it's exciting to see money being raised from donors and allocated to local agencies for needs in our region."

"One of the biggest changes to my job is keeping track of grant monies we receive. When I first started, we didn't operate programs that were funded by grants – like the Free Community Tax Service, Heading Home of South Central Indiana, and Financial Coaching. These programs are vital to our community but also require a lot of oversight. We have also launched more disaster and crisis funds in response to emergencies and disasters – like the recent tornadoes."

With her deep knowledge of local social services, Chris has also been a key member of the City of Bloomington Community Development Block Grants (CDBG) Funding Citizens Advisory Committee since 2008.

A highlight of her work experience is the opportunity to work with student interns. "I really enjoy training interns their freshman year and then working with them for their four years at IU. We really get to know each other and share so much time together. I still keep in touch with several of my previous interns. I've been fortunate to have several stay with United Way all four years of school."

"One of my proudest moments was winning the Joseph M. Waldman Outstanding Internship Supervisor Award from Civic Leadership Development at the IU Kelley School."

Chris shared that another favorite part of her work is her co-workers and interns. "We spend a lot of our life at our jobs, and it is a bonus if you can be a 'work family.'"

"Having the opportunity to work with Chris for nearly two decades, I've witnessed over and over her passion for keeping our community strong, her care in ensuring every donor dollar is handled responsibly, and her desire to make our team welcoming and uplifting. Even though the work of United Way can be challenging, it is made easier with a team that supports and cares for each other as ours does -- and Chris is at the heart of that," shared Jenn Hottell, United Way of Monroe County Community Engagement Director.

To say that Chris knows our community would be an understatement. Born and raised in Monroe County, Chris was a 4-H member, a Girl Scout Troop leader when her daughter was young, and has volunteered for several organizations.

Some of her earliest memories were of playing with animals around her grandparents' house near Allen's Creek. And that love of animals is just as strong these days. Chris currently serves on the City of Bloomington Animal Control Commission and previously was on the Pets Alive board of directors. 

In looking to the future, she hopes that United Way "continues to make reducing homelessness and increasing affordable housing a top priority."

When she's not working, Chris enjoys spending time with her husband, Dan, and daughter, Victoria. And, it goes without saying that her dog, Lilly, and cats, Nola and Gypsy, are showered with love and affection. She also enjoys traveling (especially to Michigan), reading, and supporting local businesses. And if you're lucky, you might catch her singing karaoke at The Office Lounge.

Join us in celebrating Chris' 20-year anniversary by sending her a note! Thank you, Chris, for your dedication and loyalty, for all that you do to ensure that finances are in order, and for making our community stronger! We are lucky to have you at the heart of the United Way team.