Always the second Saturday in May - RAIN OR SHINE!
Saturday, May 13th, 2023
is the next Stamp Out Hunger Food Drive!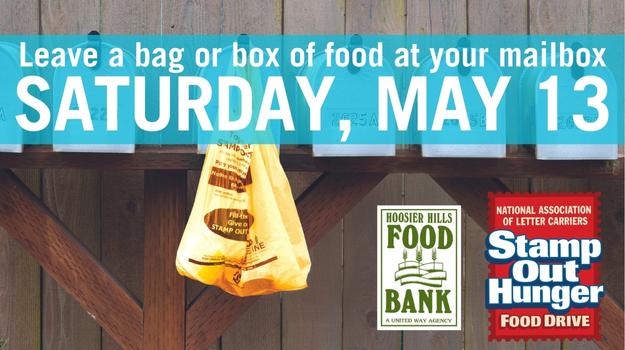 The Letter Carriers' Stamp Out Hunger Food Drive is the largest, single-day food drive in the nation, and an easy way to make a difference in your community.
On Saturday, May 13, 2023, rain or shine, letter carriers and volunteers will collect bags of healthy, non-perishable donated food people, like you, have set out by their mailboxes. Donations are sorted and taken to local food pantries to feed hungry Hoosiers.
Rain or shine the Stamp Out Hunger food drive goes on! 
Event organizers recommend: "If it is raining we encourage people to put their donations in a plastic bag and tie it shut if possible but please don't let the weather keep you from donating. People with mailboxes by the street or in apartments with pedestal type group mailboxes can also place their donation inside their mailbox."
The Stamp Out Hunger Food Drive is very important to local pantries and neighbors in need.
In the spring, food supplies are typically lower. As schools let out for the summer, the need for additional food is greater since young students don't have access to free or reduced breakfast and lunch programs. And locally, nearly 1 in 5 children are at risk of going hungry.
In our region, 1 in 6 people are at risk of hunger and one-third of these neighbors are not income-eligible for federal nutrition programs. This means they rely more on access to healthy, nutritious food from pantries and kitchens.
In 2022, Hoosier Hills Food Bank distributed over 5.6 million pounds of food, second only to the pandemic record of 7 million pounds in 2020.  A record 1.6 million pounds of fresh produce were also distributed through programs and partner agencies in six counties.
Will you help us feed hungry Hoosiers this year?
How You Can Help
Simply fill a box or grocery bag (or two) with healthy, non-perishable food and set it by your mailbox the morning of the Stamp Out Hunger Food Drive to be picked up. Each household in our service area should receive a Kroger bag in your mail the week of the drive. Food donations are distributed to the Hoosier Hills Food Bank and other local agencies who then provide the food to hungry Hoosiers.
What to Donate
Most Needed Items
Canned meat (tuna, chicken, beef stew, etc.)
Canned fruit
Canned vegetables
Juice & juice boxes
Cereal
Please Do NOT Donate:
Expired food
Open packages
Perishable food
Glass jars
If you're interested in volunteering or hosting a food drive, please contact the person in your area:
Make a financial contribution to Hoosier Hills Food Bank here.

Major local sponsors & participants:
NALC Branch 828
U. S. Postal Service
NRLCA (rural carriers)
United Way of Monroe County
Hoosier Hills Food Bank
Kroger
Additional local participants:
Lawrence County ARC
Bedford Lions Club
Bedford Noon Lions Club
Fayetteville Community Lions Club
Mitchell Lions Club
Southern Indiana Area Labor Federation
National sponsors:
AFL-CIO
United Way Worldwide
CVS Health
Why Get Involved?
Hear from Jerry Sutherlin, a retired Letter Carrier and Stamp Out Hunger Volunteer, talk about the 2015 food drive on the WFHB Activate program.
Meet Blll Sherman: 25 Years of Stamping Out Hunger (2017)
The crown jewel of Bill Sherman's 37-year career as a postal worker is helping to start the Stamp Out Hunger food drive locally. In the early '90s. Read his story at the link below.
Media Coverage
2019
2018
2017
The local NALC South Central Indiana Branch 828 Stamp Out Hunger Food Drive includes all communities with city delivery in Greene, Lawrence, Monroe, and Owen Counties. It also includes Martinsville, Odon, Orleans, and Paoli. Branch 828 also assists with the Food Drive in additional communities that do not have city delivery.
For general information about the national Stamp Out Hunger efforts and impact visit the National Association of Letter Carriers (NALC) website at www.nalc.org/community-service/food-drive.