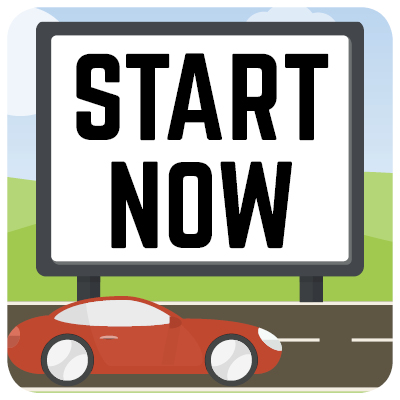 The Roadmap to Success is a tool for students, parents, and counselors to help guide middle and high school students' career and school choices. The Roadmap connects users to information about the workforce, colleges and training programs, ways to pay and save for education after high school, and much more. 
The site begins by asking whether the user is a student, parent/guardian, service organization, educator, or community member/business. After answering specific questions, the user is presented with a personalized resource page that contains relevant local and national information. They can then view these various resources and can email their personalized report to themselves or others for future use. 
The motivation to create the Roadmap to Success website came from the need for a centralized access point for education and career related resources. High School Plus Coalition members realized that while there are many national and local resources available to Monroe County middle school and high school students, the county lacked a central way for people to access all of these resources in a user-friendly way.  
Since its launch in 2015, the Roadmap to Success website has helped over 3,000 local students navigate difficult decisions about career and college, along with another 3,000 parents, counselors, and community members who helped students on their journey.  
All teenagers need a plan for their future. The Roadmap to Success allows teens to find resources that suit their individual plan - no matter if their plan includes career and technical education, college, the workforce, or service. 
The Roadmap was developed using input from a High School Plus Coalition summit and the Coalition Steering Committee. The project is managed by the Greater Bloomington Chamber of Commerce and United Way of Monroe County, which also provided funding.
Our thanks to WhimMill and Midwest Color Printing for their contributions to the Roadmap to Success.
The High School Plus Coalition, coordinated by the Greater Bloomington Chamber of Commerce and United Way of Monroe County, strives to prepare all students to grow, graduate, and pursue their goals by creating a purposeful plan for the future. The Coalition was created in 2012 and is comprised of educators, guidance counselors and community members. Whether a student is college-bound or wants to enter the workforce, the High School Plus Coalition recognizes the necessity of everyone having both a high school diploma + a purposeful plan for their future.